Complete Story

08/30/2019
We're all busy these days, but don't forget to invest in your staff members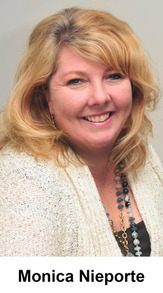 By Monica Nieporte, Executive Director
As we head into the holiday weekend, I'd like to throw out a suggestion for you to ponder.
Why not take advantage of one of the two great training sessions we have coming up in September?
It isn't often that we're able to bring in experts such as Kevin Slimp (layout and design) or Mark Cullen (sales best practices) and we've got them both coming to Columbus on back to back days.
I understand – it's time and money. And we're all short on both these days.
However, when we ask members for feedback about what type of training they'd most like to see offered, these topics are among the highest on the list.
Is there someone on your team who, with a little investment in their development, could be a difference maker at your paper? If your paper had snappier headlines and cleaner, more eye-catching layouts, would you sell a few more on the newsstand? Could your advertising person easily recoup the few dollars in mileage and the registration fee if they sold just one more ad next month?
Another reason we hear from members about why they don't send employees to training is time. They say they can't afford to be down the person for the day. But I challenge you to think of this another way – how many times has someone called off sick or worse yet, has anyone ghosted you and left the job without notice? Somehow you made it through being down a person for that one day.
I'll give you a few good reasons to invest in your team.
It makes your employees feel good that the company is willing to spend a little money helping them improve their skills and wants to continue to develop talent.
It's a morale boost for the employees selected to go. Often times they feel like they're falling further and further behind. An expert may be able to give them some tips that will change the way they approach their job and make them more efficient.
If your paper looks better, it sells better. With today's short attention spans, people don't have time to figure out what the top stories of the day are. They want to be able to glance at a paper while buying their coffee in the morning and know instantly whether it has content they are interested in reading.
You're likely charging your customers more for your product and maybe giving it to them on fewer days. You can't afford to put out a paper that looks haphazardly pieced together with 4-5 crazy fonts and colors. It needs to look slick and interesting.
Your advertisers have more choices than ever on ways to market and who to spend money with. If you can give your sales person an edge over all of their print, broadcast, direct mail and digital competitors, don't you owe it to your sales person to do that if you expect them to produce the results you want?
Yes, I'm pushing all of you who haven't yet registered anyone for training. The reason I'm doing that is because we won't have any other in-person workshops this year. These are topics many of you have asked for and we have top notch trainers on board and I really hope more of you take advantage.