Complete Story

04/25/2022
Don't overlook the community news people expect to see in their community newspapers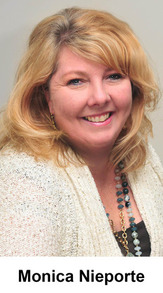 By Monica Nieporte, OMNA President and Executive Director
Spring is here!
As a former newspaper reporter one of my favorite duties was getting to spend a Saturday filling in for our Community Editor. I got to type in all the weddings, anniversaries, birth announcements and obituaries. I got to decipher beautiful cursive, handwritten notes that told me who attended the family reunion including who traveled from the most far-away place and who was the youngest and oldest family member present. Festival queens, fishing tournaments, ribbon cuttings and fair showmanship winners filled my Saturday afternoon.
Damn. I miss that.
And I miss that great local content being in our newspapers and cringe every time I see this stuff in my Facebook feed instead.
My local paper used to be filled with smiling brides and now there is wire content and news from sister newspaper markets that I don't care about or can see elsewhere in its place.
Look at any newspaper in Ohio from the 1980s-90s and look at one from 2000- now. Notice anything missing??
How did we not realize we had a genie in the bottle right there on the Community Editor's desk? If you're reading this and asking "What's a Community Editor?" or "We haven't had one of those in 15 years since the last one retired"… then you have identified why not as many people are reading our products as there used to be.
The community is still consuming all of this information – your newspaper is just not the restaurant they're consuming it at because we naively took all of their favorites off the menu.
Why did we push all of these readers to Facebook by charging to submit society news? Telling people we didn't have the space to run family reunions or civic club pancake breakfasts?
Facebook, or excuse me, Meta has built an empire on all of the content we shooed away or limited by making it too hard or expensive for people to get it published in our papers. As I see Meta building a mega data center here in the Columbus area – it makes me sad. Look at what all that free content people were trying to bring us was worth.
I – and many of you – were at all those industry conferences from 10-20 years ago where speakers encouraged all of us to monetize that content by charging to submit it. We were made to feel that if we continued to accept the gold mine people were handing to us for free without trying to profit from the submitter, we were somehow being duped.
What those speakers failed to connect was that it was already being monetized. With local ad revenue. With subscriptions and single copy sales. It was a big chunk of what gave the newspaper value to readers and to advertisers. Sound like a familiar business model? Maybe one you've seen adapted by an huge social media company as well?
I'd love to turn the clock back and have all of us tell that nice little older lady trying to submit her class reunion photo that we would be happy – no, make that ecstatic – to run that photo for her for free and we would make sure that space would permit.
Is it too late? Or can we recapture the genie and try to put her back in the bottle? What if we spend the summer letting readers know that we want that content back in our papers? Reach out to people we see posting their wedding pictures on Facebook and ask them if we can run a wedding announcement for them in the paper?
Social media is fleeting – your post is there today, gone tomorrow. Replaced by someone's quote of the day or a clever meme.
Once it is in the local newspaper though – well, it's there in the archives for all of time. I think that still has value. I think we should start selling that idea harder and get as much of this content as we can back in our newspapers where it has always been and belongs.