Complete Story

08/07/2020
Promote the importance of local journalism to your readership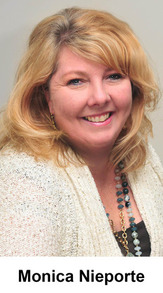 By Monica Nieporte, OMNA President and Executive Director
I don't know about you but I am jealous of all those cardboard fans filling major league baseball stadiums. Immune from COVID-19, they have not a care in the world and can just sit there and enjoy the game night after night.
While we are all getting impatient with the virus and the uncertainty that hangs over even the most mundane activities, it is important that we not let our guard down. Thus far, we've been very fortunate and our members have been able to still do their jobs and bring the news to readers. But as activity ramps up with the return to school and return of at least some high school sports, the risk to our reporting staff increases. Stay safe. Make smart choices. Don't just report "talking points" back to your readers. Ask the hard questions, dig a little deeper, ask the "next question". Your readers will appreciate the extra effort you took.
The spectacular news around the Statehouse this summer has been compelling to follow. Our members have done a good job explaining a complex set of allegations to readers. I am a bit mystified as to why the story hasn't made more of a national splash. It has all the elements of compelling television viewing and may have some impact on the November elections as voters are just disgusted by the whole ordeal. Someone whose job it is to pick up on these state stories is asleep at the wheel.
I also wonder, however, if some of our members' newsrooms were staffed this past year as they were five to 10 years ago with more people who have spent years cultivating relationships and more years of investigative reporting experience under their belts, would we have had to wait for the press conference by the feds or would this story have leaked out much earlier? In hindsight, it is easy to see clues that were missed. Threads, that if followed, might have led to a major scoop. I can't help but wonder what other stories are out there, just under our radar, that we're collectively missing because our newsrooms have been ravaged by cuts.
Please promote the importance of local journalism to your readership. If people did not have our members' articles to read, they certainly would not be getting any of the information about the Householder scandal from the national press. It is just one very prominent example of why Ohio needs its local newspapers to not just survive but to thrive. When those who are intent on cutting corners and cheating the system believe the government watchdogs are all asleep, or are too old and tired to sniff out corruption, they get bold. The national media is warning, in very stark terms, that our election in November could be the target of such mischief. It will be up to all of you to make sure that does not happen here in Ohio. Make sure you're asking questions now of your county board of elections, the Ohio secretary of state, the local post office and all others who play a part in the "supply chain" of getting a ballot to a voter and back to be counted.
You all have an important role to play – not just as the storytellers of Back to School Pandemic Style or Election 2020 – but as the accountability check for citizens on their local government officials and the decisions they are making that impact all of us.