Complete Story

02/14/2020
Convention reception successfully funds scholarships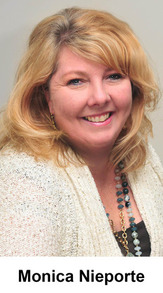 By Monica Nieporte, OMNA President and Executive Director
Evening reception has long been a favorite event in the agenda from our annual gathering. It's a chance to relax, enjoy some great appetizers and have a few cocktails with industry friends you may not see except for once a year at convention.
Historically, it has also been an important fundraising event for the foundation but in the past few years we had started getting away from that and the emphasis shifted to award presentations or political guests. This year the board and convention committee made an intentional effort to return the focus of the evening reception to fundraising, And not just vague, blanket "fundraising" but very specific and important fundraising.
Our goal was to raise enough funds between the Wall of Wine auction and silent auction to fund three $1250 scholarships – a college scholarship, high school scholarship and a second high school scholarship earmarked for minorities.
We knew in order to do that we would have to solicit some great prizes that people would be willing to pay $100-200 to win. Some were disappointed that there weren't any "low ticket" items to bid on – we're sorry but we knew we couldn't generate $3750 with $20 and $35 items. We needed robust bidding on more expensive items and we got it. The Wall of Wine brought in $660 and the silent auction brought in $2948 for a total of $3,608. Though we came up just a hair short, we also sold some books and mugs (Thank you for buying!) so we believe we have the 2020 scholarships covered.
This is huge and I cannot thank you enough whether you were a bidder or donated and item or, like many, did both. How does this compare to past events? Well, we blew last year's $1,265 out of the water. In fact, the last time we raised more money with our silent auction (the Wall of Wine did not exist then) was in 2015 when we tallied an amazing $4,474. (I don't recall what all we had up for bid that year but it must have been something pretty incredible.). We hope next year to do just as well as we did this year and are open to suggestions on how to spice up the event even more – Do we have a couple of live auction items? Do we include craft beer six packs for those who aren't fans of wine?
What I enjoyed most about the silent auction was seeing some of the great experiences people donated from around the area. (Who couldn't use a weekend stress-reliever getaway to peaceful Amish country?) Whether you bid on those items for something to enjoy yourself or to use as a sales incentive or client perk, we appreciate your bid.
My guess is if we start asking earlier, people will come up with some really cool things that aren't top of mind at holiday time when the call for donations typically goes out. So, as the year goes on, take a look at what your paper might be able to leverage through trade or other client relationships. Chances are if it is something you enjoy or value, it would be a hit with attendees looking to score some silent auction prizes next February.