Complete Story

03/15/2019
Ohio politicians back ONMA initiative, support the purpose of Sunshine Week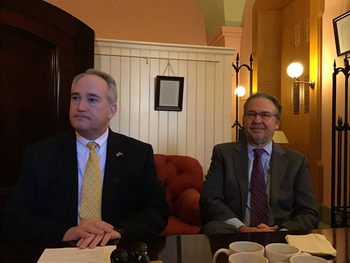 Photo caption: Ohio State Auditor Keith Faber, left, and ONMA Executive Director Dennis Hetzel at news conference announcing Faber's Sunshine Week initiatives. (Photo by Jo Ingles, Ohio Public Televsion)
By Dennis Hetzel, Executive Director
"So, are you writing a farewell column?"
That was the question from Jason Sanford, our communications manager, as I move into my final two weeks as your executive director.
I hadn't planned on writing one. But this happened: All kinds of positive news emerged during Sunshine Week in Ohio. If I've got one more column in me, I thought, let's go out on that kind of note.
First, newly elected State Auditor Keith Faber announced that he supported our idea to expand the successful public records appeals process to include allegations of open meetings violations. Faber, who championed the open records program when he was Ohio Senate president, added that Larry Obhof, the current Senate president, pledged support as well. This would mean that for $25 and a short time online at the Ohio Court of Claims website, you'd be able to contest open meetings violations.
As if to put an exclamation point on the value of the Court of Claims approach, the Court issued a groundbreaking decision involving Cincinnati City Council members on Thursday that said text messages about public business are public records, even if made on their personal phones. This is related to the city agreeing to settle a case for $101,000 in legal fees and fines after several council members broke the open meetings law by using texting to deliberate what they should have been discussing in public.
During that same news conference, Faber also announced a "scorecard" approach to make public records compliance a significant part of his office's regular audits of governmental bodies. ONMA is working with Faber's office on this initiative.
Meanwhile, Secretary of State Frank LaRose followed up on something he's championed since his time in the State Senate: increased transparency of campaign spending so that contributions for local government races are easily accessible online. In a Sunshine Week op-ed column, he spelled out details. State Sen. Michael Rulli, R-Salem, has introduced a bill to do just that.
Then newly elected Attorney General Dave Yost released the 2019 version of the "bible" on Ohio's sunshine laws – the so-called "yellow book" from the days when it only was physically printed with a yellow cover. This is the annual update of Ohio's open meetings and open records laws, translated into clear English. Every Ohio newsroom should have this accessible. The Sandusky Register's article also listed the ways the Register makes aggressive use of public records to do important stories.
Yost also posted a YouTube video on how any citizen can make a public records request.
Legislative leaders, including Obhof and House Speaker Larry Householder, are even making noises about greater transparency for JobsOhio, Ohio's economic development agency that's shrouded in secrecy. When you mix billions of public dollars, politics and moneyed interests with lack of meaningful oversight, you have a scandal-in-waiting.
Meanwhile, Householder says the House nearly is ready to join the Senate in having more committee hearings televised live and then archived online, including at The Ohio Channel.
That doesn't mean everything is rosy. I was reminded of that when we received a legal hotline email from a student journalist on Thursday regarding the elaborate games that Kent State University is playing – again – to keep the names of candidates secret in its presidential search.
No doubt there will be other bills and initiatives to oppose in the coming months. We also need better case law from the courts on the frequent abuse of the records exemptions on attorney-client privilege, trade secrets and the flow of public money to private entities.
Those are battles I leave for my successor, Monica Nieporte. Monica and I have been working together now for about two months. You're definitely in good hands with a great team of talented, dedicated people serving you at the ONMA and AdOhio.
But for today, particularly in honor of Sunshine Week, let's appreciate some good news and take pride. Why should we take pride? I absolutely believe that the presence of this organization and the watchdog role played by ONMA members across the state, from small-town weeklies to major metropolitan news operations, is why there's good news to share.
Thank you again for all you do. It has been the opportunity of my lifetime to serve you.


Dennis Hetzel and his wife are moving to North Carolina in May. He plans to work on book projects and consult in communications and government relations when he isn't on the beach. To stay in touch with Dennis after April, send email to drhetzel@gmail.com.