Complete Story

02/14/2019
Weekly and collegiate contest winners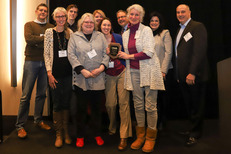 The ONMA weekly contest is named after Osman Hooper, one of the most important figures in Ohio journalism. He spent 58 years at The Columbus Dispatch, became a journalism professor at Ohio State, wrote a book in 1933, "The History of Ohio Journalism," and for many years conducted the annual "Ohio Newspaper Show" that was part of the convention of one of our predecessor organizations, the Buckeye Press Association. He died in 1941 at the age of 83.
The top winners based on points are honored at the ONMA Convention Luncheon. Here are the 2019 grand-prize winners, who were announced at the convention on Feb. 7:
The collegiate awards in general excellence are named after ONMA's retired executive director, Frank E. Deaner. The 2019 Frank E. Deaner Awards for General Excellence in Collegiate Journalism went to:
To see the Hooper and Collegiate booklet highlighting all the winners and finalists, go here. For pictures of the winners, go here.