Complete Story

11/09/2018
At 2019 ONMA convention, plan on relevance and fun

Maurice Clarett, Ken Paulson, great networking, lots of ad training and a 'wall of wine'
A former Ohio State football star with a life story you won't forget.
A presentation to stir your soul and renew your appreciation of the First Amendment.
Sales training that goes back to the basics.
Tips on how to cover a crisis – and how to manage one at your own newspaper.
That's just some of what you will discover at the 2019 Ohio News Media Association convention in Columbus on Feb. 7-8.
This year's theme affirms what makes our industry great: "Be Relevant. Investigate. Innovate." Here are program highlights: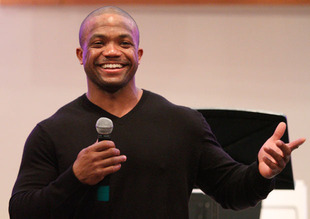 Maurice Clarett seemed to have it all as a star athlete at Warren High School who became Big Ten freshman of the year as a running back at Ohio State. Buckeye fans will never forget his two pivotal plays that helped OSU clinch the national championship in 2002. Then everything went wrong, including dismissal from Ohio State, a failed pro football career and a prison sentence for armed robbery.
In prison Clarett vowed to turn his life around. He began reading, finished his college degree and earned early release. Today he's a sought-after motivational speaker and author who founded "The Red Zone," a behavioral health agency serving more than 1,500 children and adults in Ohio.
The first 30 full-time registrants to our convention will receive a free, signed copy of Clarett's book, "My Life. My Story. My Redemption." Our breakfast program, "A Conversation with Maurice Clarett," should be a highlight of the convention.
"Revolution, rights and rock 'n roll" with Ken Paulson: Learn the hidden history of the First Amendment in an interactive presentation that will challenge and inspire. Ken mixes his love of music with his background as a journalist, lawyer and educator. He's president of the First Amendment Center, dean of the College of Media and Entertainment at Middle Tennessee State University and the former editor of USA Today, where he remains a columnist writing about First Amendment issues. He's widely known for developing creative approaches to teaching the First Amendment, including a musical stage show called "Freedom Sings," the social media campaign called "Free to Tweet," and the Emmy-honored national television show "Speaking Freely." He's also the host of "The Songwriters," seen in more than 100 cities on PBS stations nationwide.
We've also invited Ohio's newly elected governor Mike DeWine to deliver our other major convention address, joining numerous other past governors who have addressed our convention.
Our breakout sessions will be relevant to the max:
You'll get back to the basics of sales training and sales-team leadership with two outstanding consultants. On Thursday, Kelly Wirges of Pro Max (picture at right), one of the media industry's leading sales trainers, will conduct a double session, starting with "Prospecting that Pays" and following with "Developing a Competitive Multi-Media Advantage." On Friday, Lewis VanLandingham of Sandler Training, who received rave reviews after recently doing a half-day workshop for us, will focus on "Why Media Sales Teams Fail and What You Can Do About It."
No one spends more time studying and thinking about rural and small-town journalism in America than Al Cross, director of the Institute for Rural Journalism and Community Issues at the University of Kentucky. Al joined the institute after spending 26 years at The Courier-Journal in Louisville where he shared in a Pulitzer Prize. Al will talk and lead discussions on both problems and opportunities in local news organizations today.
Our popular roundtables for editors, ad directors and weekly newspapers return as always. Ad directors will share revenue ideas in a fast-moving format. Editors will share coverage ideas and hear a presentation from the Cincinnati Enquirer team that won a Pulitzer Prize for their innovative local coverage of the opioid crisis.
What should you do in a crisis in your workplace such as a top manager being accused of sexual harassment or a violent incident such as the one at The Capital in Annapolis, MD? And what are the best practices in these difficult times for covering crisis incidents in your community? Thom Fladung has some answers for you. Thom joined Hennes Communication in Cleveland after 33 years as a journalist, including managing editor of The Plain Dealer.
Our panel of professionals from inside and outside our industry will discuss what Ohio media outlets need to do to restore or build trust. One of our panelists will be Gary Abernathy, the former publisher of the Hillsboro paper that was one of the few in America to endorse Donald Trump. Gary, now a Republican county commissioner, continues to write op-ed columns for the Washington Post.
All that and more will unfold. And "more" includes a chance to go home with some great wines or Ohio craft Ohio beer from our wall of spirits as part of our annual fundraiser for the Ohio News Media Foundation.
The 2019 convention is moving to the new Renaissance Columbus Westerville in the Polaris area of Columbus. The hotel is just minutes from Ikea and the huge new Topgolf recreational center. Polaris Fashion Place Mall, Easton Town Center, the Tanger Outlets in Delaware County and numerous restaurants are nearby. We've also changed to a more convenient schedule for travel with a program that starts at 10 a.m. on Thursday, Feb. 7, and concludes at noon on Friday, Feb. 8.
Registration prices are the same as 2018 with discounts for multiple registrants from the same media outlet. Please join your colleagues for a great two days in Columbus!