Complete Story

06/14/2016
How to Photograph a Fire: A Journalist's Guide
By Zack Anderson, ONA Intern
Shooting the Flames
Arrive during the fire: Getting to a fire scene without missing the actual fire is one of the challenges of fire photography, says Brent Lewis, photographer for the Chillicothe Gazette. "A lot of up-and-coming photojournalism students and interns and people who are trying to get experience are always usually late," Lewis says, saying the photo then ends up being just a building with smoke.
Find the location of the flames: One of the first things Lewis does when he gets to a fire scene is to locate where the flames are coming from so that he can get himself to where he can get the shots he wants.
Change lenses depending on your location and purpose: Lewis says he uses a longer lens if he is not able to get as close to the fire as he would like. For the house fire photo below, Lewis says he couldn't see anything from the front of the building, so he went down a back alley. "I was sitting back there with one of my long lenses and just kind of waiting for everything to come together," Lewis says.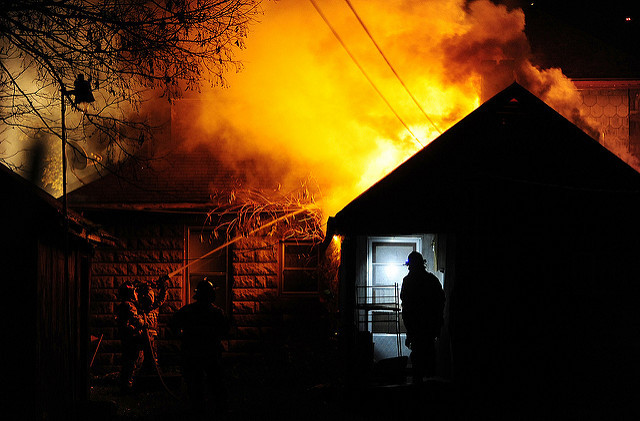 Night Fire - Long Lens | Brent Lewis, Chillicothe Gazette

But when Jane Ernsberger, news editor at the Willard Times-Junction, is shooting a fire, she keeps her regular zoom lens on all the time. She says you can capture great close-up shots with a lens such as this and that with longer lenses you lose a sense of the overall scene. "I'm kind of strange," said Ernsberger, who won a 2013 Osman C. Hooper Award for a photo from a fire scene. "I spent 10 years as a deputy sheriff, so I do things a little differently, I have to admit."
Keep your camera's exposure on automatic: When you're shooting a fire with a digital camera, you can leave the exposure on auto, at least for the most part, says Dave Zapotosky, chief photographer at the Blade in Toledo. Still, the Hudson Hub-Times Reporter Laura Freeman – who, like Ernsberger, won a 2013 Osman C. Hooper Newspaper Award for a photo from a fire scene – says you should learn what your camera can do and not shoot on auto all the time.
Types of Shots
Overall-scene shots: Zapotosky says taking a photo of the overall scene and scope of the fire is one of the first things to do when photographing a fire. If the fire is in a city's downtown area, he says you can go to an elevated position to help capture this type of photo.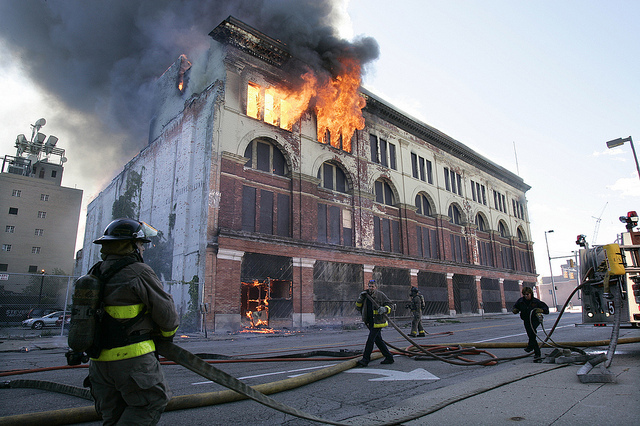 Flames | Dave Zapotosky, The Blade

Location-identifying shots: "You want to identify, in other words, where the fire is," Freeman says. To do this, you should try to get a photo with something more than just the building. Freeman says the fire where she took her Hooper Award-winning photo was in an industrial area. So in covering that fire, she wanted to capture the industrial barbed wire.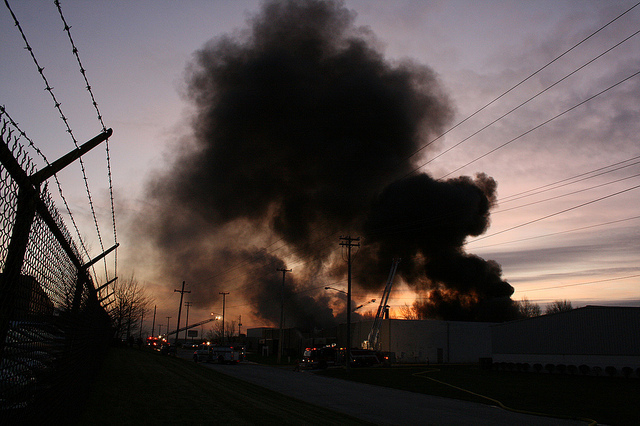 Night Fire - Barbed Wire | Laura Freeman, Hudson Hub-Times

A location identifier in a neighborhood might be something such as a tree, Freeman says. Also, she always takes a photo of all the fire trucks since the fire department name on the trucks can help identify the location.
Around-the-building shots: "Try to get an as comprehensive walk-around of that house that you can," the Time-Junction's Ernsberger says. She says this is where you're going to see the things people in the front of the house or building aren't seeing. For example, her Hooper-Award winning photograph below was actually taken between two houses.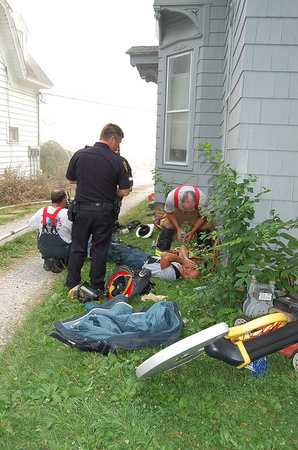 Around the Building - Hooper Award-Winning | Jane Ernsberger, Willard Times-Junction

Human-interest shots: "It's just finding something different, and sometimes that brings a little bit of emotion to the fire," the Chillicothe Gazette's Lewis says on capturing the human side of a fire. Photographing animals affected by the fire is one way to do this. For example, Lewis says at one house fire he spent 20 minutes taking photos of a dog hopping up on a fence and contrasting that with the fire itself.
Zapotosky from the Blade says to look for not only the actions of the firefighters but also the reactions of anyone affected. "You're trying to make more than a so-called record of the fire scene," Zapotosky says, saying you also want to capture emotion and tell a story.

Action & Reaction - Those Affected | Dave Zapotosky, The Blade
Photographing Fires at Night
Focus more on mood shots and less on individual faces and capturing emotion: Freeman says this is one area in which shooting a day fire and shooting a night fire are different. Her Hooper Award-winning photograph, which was taken at an early morning fire on Dec. 16, 2011, is an example of this type of shot.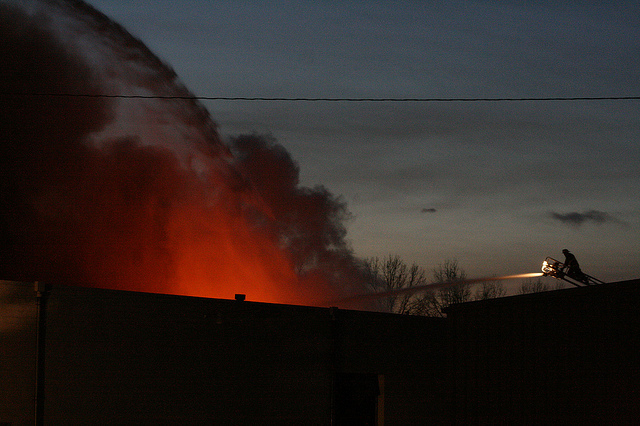 Night Fire - Hooper Award-Winning | Laura Freeman, Hudson Hub-Times

Look for sources of light: When you're shooting a night fire, find where the light is coming from or else your photos will be really dark, Freeman says. This light could be from something such as a fire truck. "You kind of have to be a little more creative at night than at day," she says.
Keep your camera steady: At night, you'll need to use a longer shutter speed, so keep the camera still or else the photos will turn out blurry. Freeman says she used a monopod when shooting the fire that her award-winning photo came from, and Lewis in Chillicothe says one time he thinks he simply used a fence post.
Watch where you're going: Both Lewis and the Times-Junction's Ernsberger say to be extra careful when moving around a fire scene in the dark. "You have to be careful at night because there are hidden dangers," Ernsberger says.
Using Your Smartphone's Camera at a Fire
For Twitter and Instagram: Lewis says he has used his iPhone at a fire scene to take photos to post to Twitter and Instagram. For example, when he was shooting a fire at a paper mill, he took a few shots with his iPhone to get out to followers. "If you can get people photos quickly, that always draws them in," Lewis says.
For your website: The Blade's Zapotosky says if a Blade photographer is shooting for the website, the photographer might use an Android smartphone to get a photo to send in immediately. "The key there is to shoot the photo at relatively full resolution and then email it back," he says. The photo will lose a lot of quality if you only text it in to the newsroom – it might not even be good enough for online.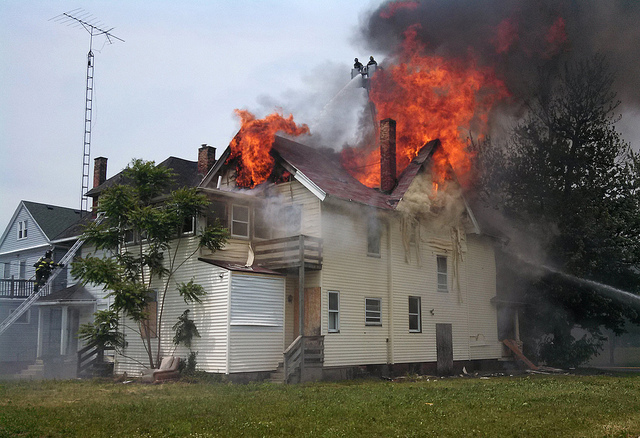 House Fire - Android | Dave Zapotosky, The Blade

Blade photographers also have another option if they need to get a photo to the newsroom immediately: the Eye-Fi Wireless SD Card. The card creates a wireless network, so Blade photographers can take a photo, such as the one below, and then send it to their phone to email in, Zapotosky says. He says this helps if a photographer can't get very close to a fire scene and wants to shoot with better equipment than a camera phone.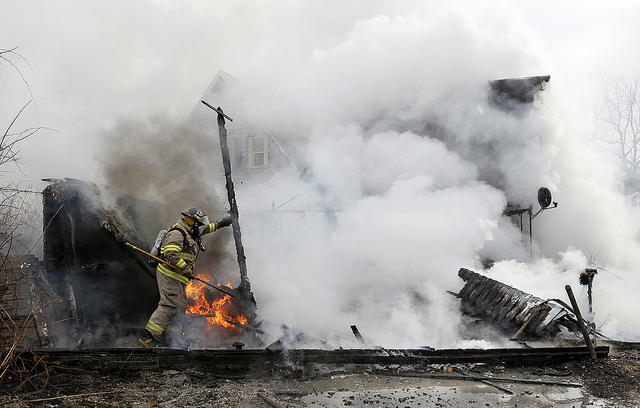 Eye-Fi | Dave Zapotosky, The Blade
Final Tips to Remember
Stay alert: Ernsberger says watching out for yourself is important. Look for things like hoses on the ground or electrical wires dangling in the air. "You have to not only watch the ground but look up and make sure that you're not in anybody else's way that's trying to actually fight the fire," she says.
Find the human side: "You can still get human interest even at a fire. And the good thing is the firefighter that was lying on the ground was okay," Ernsberger says of her award-winning photograph. "Which is always a better thing. Always a better thing."
Take a lot of photos: That is the Freeman's advice to new photographers, at least. She says you may take 10 shots of the flames and only one might turn out well. "Sometimes you think you got a good shot, but you didn't," she says. "So always take an extra one."