Complete Story

06/13/2016
A beginner's guide to sports photography
By Courtney Stanley, ONA Intern
On the shadowy sidelines of a high school football game you stand with your camera as the crowd roars to life. Players thunder by in an eruption of mud and grass, followed by helmets and shoulder pads thudding against each other. The sun has set and it's starting to drizzle. Halftime has come and gone and you're still waiting to get the shot you need.
Hundreds of things can go wrong while photographing a sporting event. An uncharged battery, poor lighting, or dismal weather can all throw curveballs that sports photographers have to get past.
For photojournalists looking to add sports to their repertoire or sports reporters who need to develop their photography skills, a few Ohio sports photographers share their tips for capturing a hall of fame worthy photo.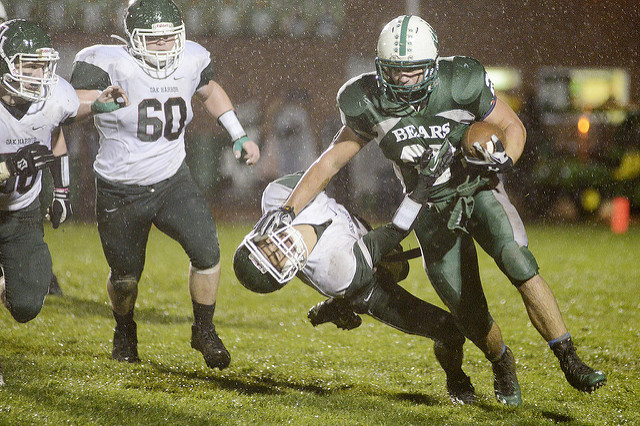 Angela Wilhelm/Sandusky Register
What makes sports photography different?
Photographing sports can be an emotion-packed whirlwind of fast-paced action and rambunctious crowds, and inexperienced photojournalists can easily become overwhelmed by the intensity of the situation.
But the challenge of managing the continuous action can also be a benefit.
"You have the whole game to keep trying to get the shot you want," said Angela Wilhelm, a photojournalist who has been working at the Sandusky Register off and on for five years. Wilhelm explained that some teams celebrate after every score, giving her more chances to photograph their celebrations.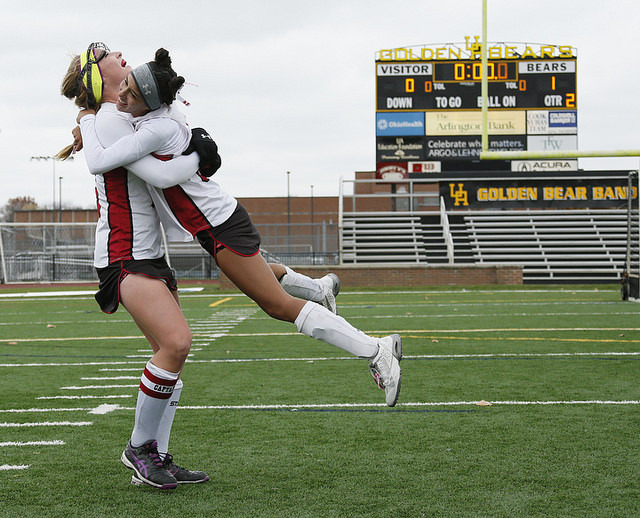 Barbara J. Perenic/The Columbus Dispatch
Sports are all about motion, said Donald Lambert, a reporter and photographer for Ohio Valley Publishing, so it is vital to capture the movement of the sport.
"You want to get a freeze-frame of a big moment," Lambert said. For instance, when photographing a track and field relay event, you need to capture the moment when the baton is passed from one runner to the next.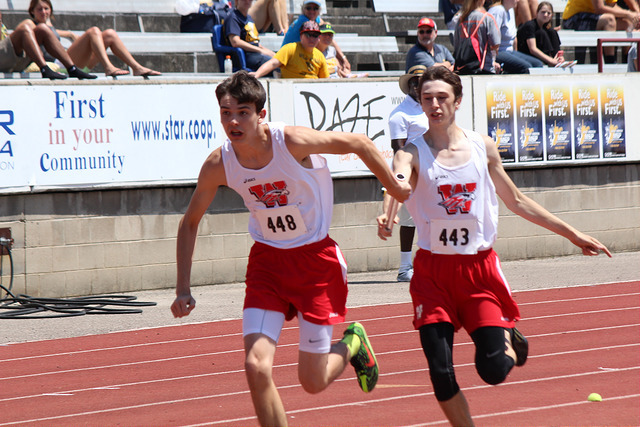 Donald Lambert/Ohio Valley Press
But the best sports photographers tell a story through the action in their photos, and that takes practice and patience according to Barbara Perenic, a photojournalist at The Columbus Dispatch with more than 10 years of experience.
"A lot of photographers are shooting first and not looking around. They want to push the button and hope everything's okay," Perenic said. "Take a step back, take a breath."
Study the sport you're photographing
The only way to be prepared to capture the big moments Lambert talked about is by understanding the unique ins and outs of each sport. A tennis match, a football game, and a track and field event each have a distinct progression of events, and photographers need to come armed with the knowledge of where to be and what to look for in each situation.
"Being out of position is a common mistake," Lambert said. "You need to know where to be in conjunction to what you want."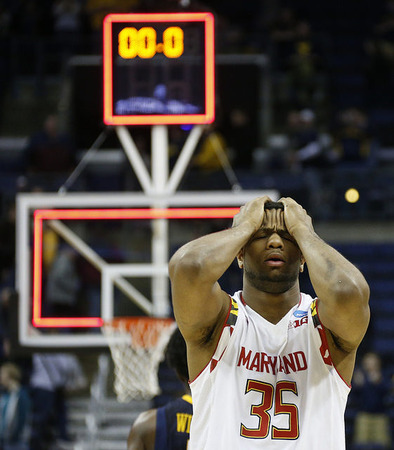 Barbara J. Perenic/The Columbus Dispatch
Understanding the sport and knowing which moments to have your camera ready are especially important for reporters like Lambert who also take their own photographs.
Anticipate the action and follow it through
The moments leading up to and following a major point of action, like a game-winning score or a crucial mistake, are just as important to photograph as the action itself.
"When I really started understanding photographing sports was when I made sure I started to photograph before the action happened," Wilhelm said. "If you're watching the action, you missed it."
Likewise, if you stop taking photos as soon as the action stops, you could miss a chance to capture the players' emotions, Wilhelm said.
"Follow the ball, but see it through," Perenic said. "The reaction is a huge part of the game." Once you know a team well enough, Perenic said, you can anticipate when and who the reactions will come from.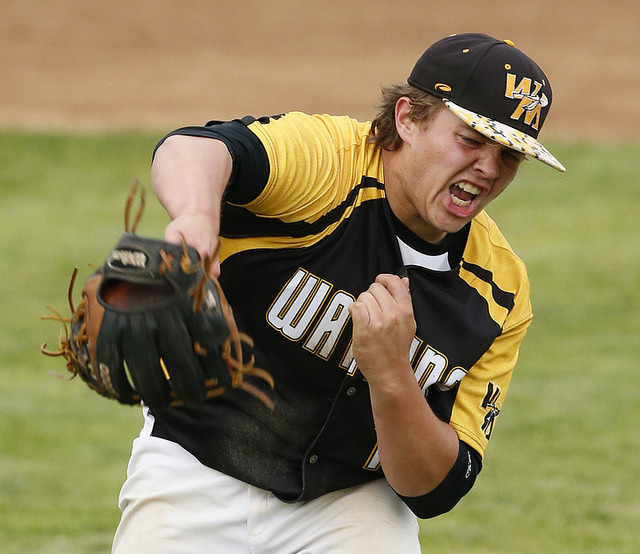 Barbara J. Perenic/The Columbus Dispatch
Find a new angle
To avoid photographing repetitive images after weeks covering the same sport, Lambert said he starts to look for new angles.
He suggested photographing your subjects from different positions to vary the composition of your shots from game to game. "Get behind home plate and in front of the pitcher. Get the pitcher winding up instead of the batter," Lambert said.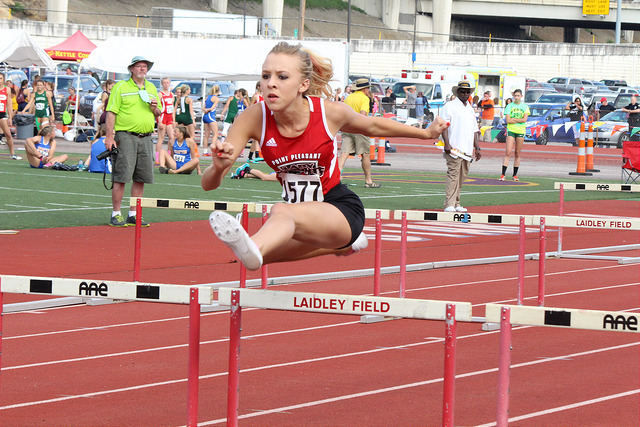 Donald Lambert/Ohio Valley Press
Just like a reporter researches a subject to make a list of questions, Perenic said it is important to do your homework and make a "visual shopping list" of the essential shots you need from each game.
You will always want a good action shot, but should you take a photo of the coach or a specific player? The fans celebrating in the stands? A wide shot of the stadium? Go in knowing exactly what you need so you can focus on how to make those shots look interesting.
Don't forget the basics of reporting
Accuracy in a photo caption is just as important as it is in the body of a story, so remember to take detailed notes—even in the midst of an exciting play.
"You're only as good as your information," Perenic said.
Taking a great photo of a runner at a track meet might become easy over time, but tracking that person down to get the correct spelling of their name and their team after the big run is always a challenge.
Perenic suggested printing the team's roster ahead of time if possible and getting to know the coaches, teams, and other photographers. "It's important to get out there and shake some hands."
Get to know the rules at new venues by asking veteran photographers questions like where you can and cannot stand or whether flash is allowed.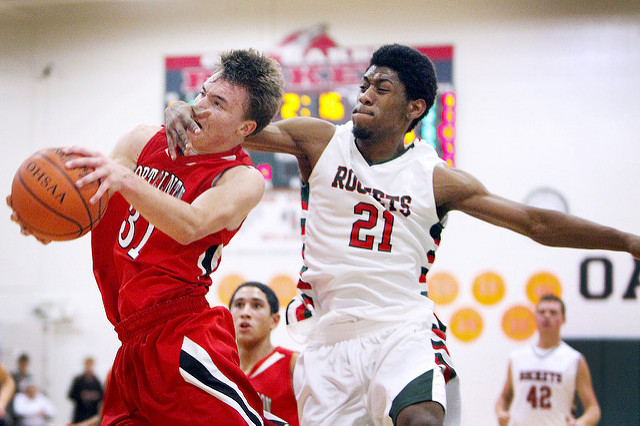 Angela Wilhelm/Sandusky Register
It is also important to leave your biases behind. Do not focus your shots on your favorite team or the one winning the game. "Take away your loyalty and ask yourself how to tell the story of the game," Perenic said.
Understand your gear (and how to adjust it)
Coming into a game with good-quality equipment is important, but, Perenic said, "You don't need equipment as much as you need to be able to use it well."
Familiarize yourself with your equipment before you go out into the field. Take your camera home and photograph your kids or pets and practice in different lightings, Perenic said. Remember that it is normal to feel overwhelmed with all of the new information you are learning, be patient with yourself, and practice taking photos consistently with your reporting.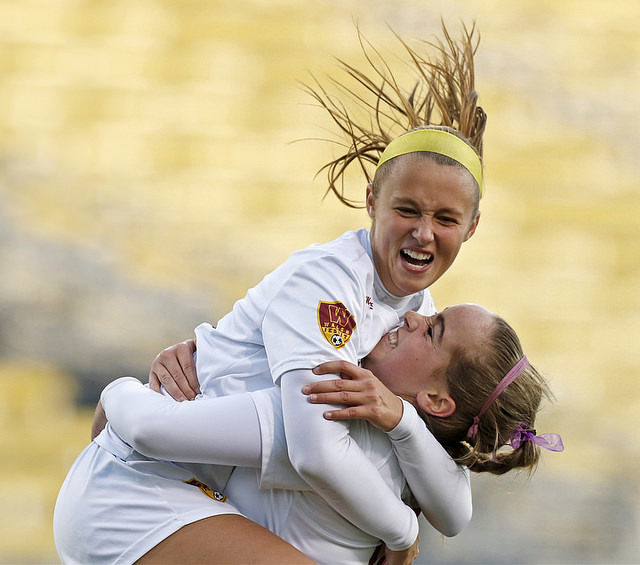 Barbara J. Perenic/The Columbus Dispatch
If a reporter is not comfortable with their equipment, they will worry more about the technical aspects of taking a photo and will not be able to focus on the difficult task of creating a story out of their photos, Perenic said.
There are some basic Nikon and Canon DSLR cameras that "won't break the bank," Perenic said, but she reiterated that it is more important to know how to use whatever camera you have.
Wilhelm typically uses a Nikon D300, but she said a Nikon D4 is great for photographing sports because it comes with a setting that takes bursts of photos just by holding down the shutter button. This setting can capture up to 11 frames per second and is great for fast-paced photography.

Angela Wilhelm/Sandusky Register
A long lens is a must-have for shooting detail from afar, said Lambert.
Covering high school sports means you will most likely run into some bad lighting situations. In dark settings, Wilhelm suggests shooting with a high ISO but making sure not to set your shutter speed lower than 500 at the risk of blurry photos.
Before you go out, make sure your batteries are charged, your memory card is formatted, and you have any weather equipment needed for your gear.
Tell your story through people and emotions
Once you master taking action photos, focus on capturing emotions and finding characters to tell your story through. "You have to make [your readers] care," Perenic said.
To find those interesting characters, watch and listen to people outside of the players on the field—what are the coach, players on the bench, or the crowd doing or saying? "It could be anybody," Perenic said. "Listen to who is reacting or yelling or cussing or cheering their teammate."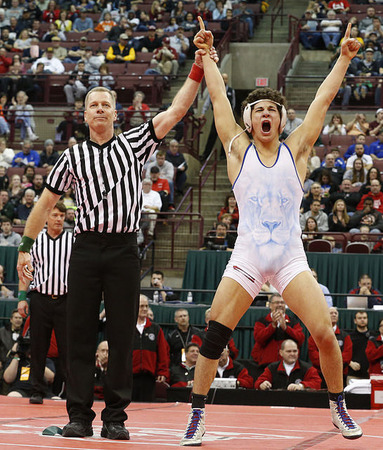 Barbara J. Perenic/The Columbus Dispatch
Online and in print, readers are typically drawn to a story by the headline and a single photo. "You have to think about what will sum up the whole story in one image," Perenic said. To consider how you will create an emotional connection between your reader and your photograph, you have to keep the reader in mind when you are taking the photo. Ask yourself what your readers care about and how this story will affect them.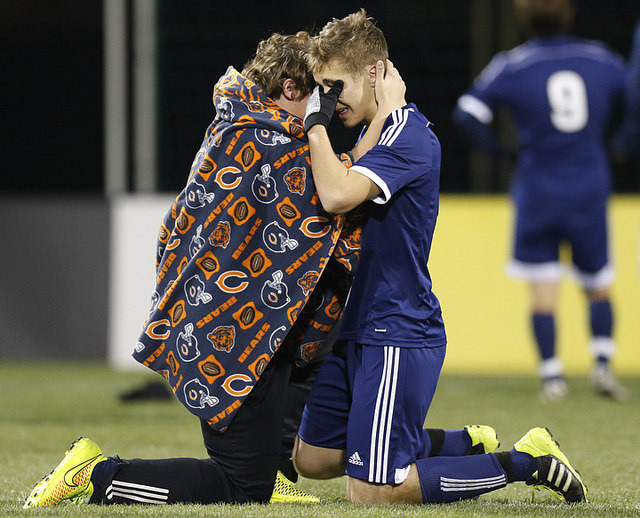 Barbara J. Perenic/The Columbus Dispatch
What about smart phone cameras?
Perenic, a professional photographer, said smart phones can typically be useful assets for journalists, but "sports is a whole different ballgame."
"Anything is going to be better than a point and shoot," Perenic said, referring to cheaper DSLRs, but she added that smart phones now have photo editing apps and detachable lenses that can enhance the quality of their photos.
Reporters with smart phones should be wary of using editing apps like Instagram that make their photos too artsy.
Click here for advice on shooting sports photography with a smart phone, and for general smart phone camera tips click here and here.