Complete Story

06/08/2018
Ohio News Media Foundation announces 2018 scholarship winners
The Ohio News Media Association is proud to announce the Ohio News Media Foundation scholarship winners for 2018. Three scholarships were awarded to college and high school students for their work in media-related fields.
ONMF University Scholarship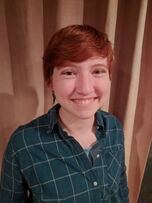 The 2018 winner of the Ohio News Media Foundation's University Scholarship is Micah Karr, a Wright State University student. She decided she wanted to be a writer while on a job-shadow day in high school when she worked in the public relations office at Wright-Patterson Air Force Base.
Creative and tenacious, Micah has earned a reputation for being able to bring life to feature stories with unique perspectives. Also, her ability to meet deadlines with well-written and complete stories has allowed her to take on significant projects for the Wright State newsroom. A favorite experience was working with the Sinclair Clarion on a story about Apple fighting with the FBI because she loves hard news and fact-finding.
As testament to her talent several of her stories have been picked up by other Ohio newspapers and one was picked up by the AP. This validation has kept her motivated to improve and expand her talents and capacities to become the journalist she believes she is meant to be.
ONMA Harold K. Douthit Scholarship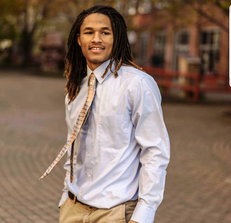 This year's winner of the ONMA Harold K. Douthit Scholarship is Justin Davis from Buffalo, New York, who attends Ashland University. Justin had the nickname "ESPN" as a kid because of his intense interest and extended knowledge of sports. One of his heroes was Stuart Scott, highly respected American sportscaster and anchor on ESPN, who died in 2015. Stuart's style and way of doing things impressed Justin and has encouraged him to set his own approach to a future in sports journalism.
Justin sees himself as a work in progress and readily identifies where he wants to improve and master his own style. Working for the Ashland University newspaper The Collegian, he has experienced every part of the process and looks for more chances to learn and improve. He also plays football for Ashland.
Like lots of kids, Justin has had his share of disappointments and losses. He has shown persistence in overcoming bad breaks and focusing on building and meeting his own goals and dreams with hard work and optimism. He defines himself as a "journalist, athlete, and spiritual leader" and is grateful that this scholarship will enable him to continue on his quest.
ONMA Minority Journalism Scholarship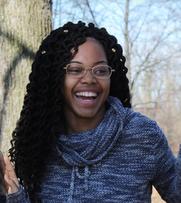 This year's winner of the ONMA Minority Journalism Scholarship is Lanae Barrow from Westerville Central High School. A wise teacher turned her onto journalism in high school and her path was set. She is a determined and independent student who knows when to seek help. She has found that the principles of journalism have helped her to complete projects of all kinds and has made her even more passionate about her future.
Her hard work has paid off with recognition as student of the month within the English Department and becoming a receipt of the 2018 OCC Academic League Journalism Award at her high school. Lanae intends to attend Bowling Green State University in the fall and continue to develop her writing and journalism skills. Lanae states that for her, "Journalism is more than a class…it is a lifestyle!"