Complete Story

03/02/2018
ONMA's new energy partner offers money-saving products, services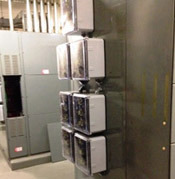 By Dennis Hetzel, Executive Director
The Ohio News Media Association today is launching a new program for our members with Worthington Energy Consultants, an Ohio-based company that can help you save money on your energy consumption in multiple, innovative ways.
The Worthington program has a new feature that every ONMA member should consider: A one-time installation of an energy management unit offers potential savings of 10 percent or more on utility bills with a return-on-investment of two years or less.
WEC recently signed a dual sales agreement with GESPER Systems (www.gespersystems.com). GESPER units are installed on a panel-by-panel basis in your facility and provide immediate benefits. Primarily:
kWh usage reduction target of 10% but current customer average is 19% usage reduction
Highest level surge protection rating available
Extend equipment life and lower maintenance costs
Backed by a $2 million product liability policy and 10-year warranty
Typical ROI is 12-24 months or less
According to our Worthington representative, Craig Grant, GESPER units are affordable ($2,500-$3,500) and provide immediate kWh reduction and redundant surge protection to protect equipment and lighting. GESPER can also reduce your carbon footprint and lower capacity costs.
GESPER units can be installed without interference with existing supply agreements. WEC also can help you restructure your existing agreements to take greater advantage of GESPER savings, provide detailed recommendations on energy usage and implement future supply agreements at competitive rates from multiple gas and electric suppliers.
By working with Worthington Energy Consultants, you also support your association. ONMA receives a small revenue share when its members participate in WEC programs. This is similar to our former relationship with Constellation Energy.
To learn more, contact Craig Grant, sales director and chief operating officer of Worthington Energy Consultants, at 614-286-1189 or cgrant@worthingtonenergyconsultants.com. We also have posted brochures on WEC and GESPER Systems on our website, which you can find by clicking here.