Complete Story

04/13/2017
How ONMA made a difference for a young blind man
From Executive Director Dennis Hetzel: I was reminded of the rich history of our organization earlier this year when I was contacted by Reggie Anglen of Columbus. Reggie first encountered our group in 1970 as a visually impaired high-school junior who attracted the attention of one of my predecessors, the late Bill Oertel. Reggie wanted to say "thanks" for the difference Bill and the ONA (now ONMA) made in his life, so I asked him to write the short article that follows.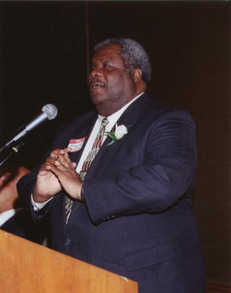 By Reggie Anglen
My introduction to the Ohio Newspaper Association family dates back to the summer of 1970. I was a junior in high school at the Ohio State School for the Blind in Columbus. That summer I was hired as editor of the Columbus Neighborhood Youth Corps newsletter, "It's Happening."
I wrote an essay for the newsletter entitled "What a Mess" that talked about the country's problems. A copy landed in the hands of Executive Director Bill Oertel. He contacted the school, expressing an interest in meeting me.
When school resumed in the fall we met and this friendship began. He was a member of the state committee for the White House Conference on Children. Bill nominated me, and I was the only blind student of the 4,000 delegates who spent a week in Washington for the conference. He and Mrs. Oertel drove me to Washington and remained there with me during the entire week.
It was through this friendship that I was introduced to a whole new world. I no longer felt I was powerless against my blindness and racism.
I went on to graduate from The Ohio State University with a degree in journalism specializing in public relations. I worked for the university for 14 years. My career ended there with a layoff.
Now I have founded a group called Teachable Moments, www.teachablemoments.us. The focus is to assist people 40 and over who are facing vision challenges here in Columbus.
Thank you ONA family for your guidance, love and support. I can be reached at rca2525@att.net.