12/16/2021
Ohio newspaper resolutions for 2022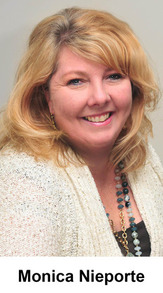 By Monica Nieporte, OMNA President and Executive Director
Farewell 2021.
After a traumatic 2020, you weren't as unsettling as your predecessor but you weren't as comforting and familiar as we had all hoped either.
Let's hope on New Year's 2022 is an improvement and arrives as a white knight on a horse and not like the circus clown car pulling up to expel a big dopey guy with brightly colored hair, a painted face and massive shoes. I don't know about you, but my cup is full when it comes to crazy and chaotic and I'd like less of that.
I have a couple of resolutions for us for 2022.
Every journalist in Ohio needs to resolve to do a better job of vetting candidates for political office for their readers. We have people on both sides of the aisle who have no business making decisions in our behalf doing so and other people who are highly experienced, have good character and opinions that match the majority of Ohioans' opinions deciding that they enjoy their personal safety too much to continue to put themselves in a bullseye. It's a tragedy because it leaves us with social media hounds creating policy decisions the rest of us have to live under. Instead of being worried about trolling and following, they should be setting policy that will set Ohio up for a prosperous future and make Ohio a place people want to move to. A place that feels "in-step" with what the majority of its residents think on important issues.
Our publishers and editors need to resolve to being better gatekeepers against disinformation and raise the bar for their readers. Make sure your paper is that "trusted source" we strive to be and not just some toxic stew of facts blended with Facebook conspiracy theories mixed in to appear as if we are neutral and giving both "sides". Some issues don't have two sides. Sometimes there are facts and there are falsehoods. Don't run something on your op-ed page just because it is "opposite' if it is clearly false.
Every sports fan and sports writer in Ohio needs to resolve to look at the glass half full more often and help fans do the same. Only one NFL team of 32 will be a Super Bowl winner. When is the last time both the Bengals and Browns have had a shot at the playoffs in the same season? Remember the era of Bernie and Boomer? Joe and Baker play with passion and heart and they have leadership qualities and character. They represent the Buckeye State well. This should be a fun few years for Ohio football fans. Enjoy it.
Let's quit bemoaning the end of the Tribe and the Indians name. What really matters is the corner of Carnegie and Ontario is still an amazing place to spend a beautiful spring day or a cool crisp autumn night. No one jilted the fans and moved the team to another city for a better deal.
Support our Blue Jackets and our Columbus Crew – their new stadium is the result of a true fan and community effort to keep the team in Ohio. And my goodness, what about this year's Cleveland Cavaliers?!?! No, we no longer have Lebron James but damn this new group is fun to watch. So sports writers, let's learn to celebrate our bounty a little more. There are many "professional sports deserts" in the country and Ohio isn't one of them. Not even close.
And now for my last resolution for us……and this applies to the team here at ONMA too. For anyone who deals with the public, please resolve to provide good customer service. This is not a hard thing. It's taking the time to listen to your customer and acknowledging that you care. Your readers and advertisers get bad or nonexistent customer service many times a day from other people, make sure they get good and memorable service from you.
The person at the fast food drive-thru may not have cared whether they handed them a "right order" or had their coffee cup lid on tight. When they call a big box store they usually get an endless loop of music or an incessantly ringing phone that no one ever bothers to answer. People start to wonder "Does anyone care or appreciate my business?" Civility is dead. Many people we encounter during our day are impatient and rude. Surprise your customers by taking time for them and actually help them resolve their issue. It means something. They will appreciate it and they will remember they got good service from you.