03/19/2021
Newspapers help preserve access to public records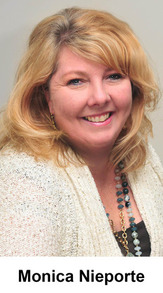 By Monica Nieporte, OMNA President and Executive Director
As we draw this year's Sunshine Week to a close, I'd like to take a moment to appreciate how we can contribute to both transparency and recording names and events for history.
During the pandemic, many people took up new hobbies or went back to old ones when their "normal" routine was disrupted and weekend outings weren't being encouraged. Some of you may have done this yourselves.
For those who have become unofficial genealogists in their spare time, platforms like Ancestry and Family Search are gold mines of clues to help fill in the blanks of your family story.
Those platforms are really just huge collections of public records, church records and local newspaper archives, that because of the magic of electronic search means they can be reviewed from your recliner and laptop computer without having to venture to the library or out on a daytrip looking through actual record books.
But without these records, and our allowed access to them, many of these sleuthing sessions would come to an abrupt dead end and these platforms wouldn't exist.
For generations, local newspapers' proud tradition of "names and faces" and getting as many into the paper as possible, has added a layer of detail and color to our ability to learn about and memorialize people of past generations. It would be such a shame to lose that. Think of the things about people you've discovered by reading it in archived editions on Newspapers.com, NewspaperArchives.com or at the library.
Sometimes clues are found in obituaries, land transfers, marriage licenses and public notices of property sales.
Social media cannot replicate or replace that. It's a collection of vacation and grandkid pictures, pass a-long quotes, food photos and political musings.
I would predict that is isn't going to be easily searchable in any meaningful way in the future and since everything is self-posted and not verified, it won't be much use as an official record.
When people advocate for getting rid of the requirement to print public notices or to close off certain types of records to public review, they are shutting off avenues of information that is not only useful today but could be useful to people in the future.
Think about the unintended consequences of closing off access to public records, or not requiring them to be made at all, and then combine it with the loss of the community's local paper or loss of the paper's ability to truly record the news in that community due to downsizing staff, and you have generations of information that will just become "lost".
If you want to undertake a pure exercise in frustration, try looking for the name of a (many times) great-grandmother from the 1830s – before the census takers recorded the names of anyone except the heads of households, before most counties in Ohio required any type of municipal recording of births, marriages or deaths. Oftentimes property records, probate records or announcements in the local newspaper can be used to fill in some of those blanks. But what if those papers didn't exist? Or hadn't published anything other than wire news or regional news from other cities?
So, as we close out Sunshine Week please remember how important it is that we preserve access to public records, fight for accurate record keeping and continue to carry on the proud tradition of a local newspaper by getting as many names and faces into each edition as possible. Future generations will be grateful to us for it.