09/18/2020
Pat Conkle to retire after 35 years at AdOhio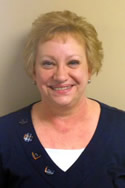 Patricia Conkle has seen the newspaper industry massively change since 1985, the year she first started working for AdOhio, the Ohio News Media Association's advertising affiliate.
"I can remember sending everything by mail," she said. "We had to roll all the ads and put them in tubes. Oh was that fun. Then came that wonderful machine called a fax machine. Everyone was so excited. Now we have everything done digitally. So nice."
After 35 years at AdOhio, Conkle will retire on October 15. Because of COVID-19, a public retirement party can't be held. Instead, ONMA members are urged to send cards and messages to Conkle so she can have a "card shower!"
AdOhio's Josh Park will be taking over many of Pat's responsibilities; ONMA members can contact him at (614) 486-6677 or jpark@adohio.net.
Conkle attended the College of William and Mary for three years where she studied accounting and received her associate degree from Columbus Business University. Conkle's first job at AdOhio was to handle order processing along with account payables and receivables. For more than two decades she has been AdOhio's operations manager.
"Pat is one of those people who works very hard each and every day for our members," said Monica Nieporte, ONMA's president and executive director. "She truly has the best interests of their individual markets at heart and she has set the bar pretty high in terms of member service for her successor. However, Pat has been working with Josh daily all summer to make sure he is ready to take on these responsibilities at the end of the September. I will miss Pat's cheerful voice, her funny dog stories and the knack she has for being able to lighten the mood even in trying circumstances. Pat has been so helpful to me in my transition to executive director. I really appreciate her and the great attitude she brings to work every day."
Other AdOhio and ONMA staff echoed Nieporte's love of Pat.
"I will tremendously miss Pat's energy, personality, incredible mind and vast knowledge of AdOhio," said Walt Dozier, AdOhio's director of advertising." Not only is she an amazing professional within our organization, she means and has meant so much to the Ohio newspaper industry over the past 35 years. Pat Conkle can never be replaced and I wish her an extremely happy retirement!"
"Pat has been a wonderful asset and support for AdOhio over her many years here," said Sue Bazzoli, ONMA's manager of administrative services. "She has been a great friend and co-worker. We will miss her and her infectious laugh."
Conkle said she plans to spend her retirement volunteering for the animal rescue down the street along with relaxing and enjoying life. She and her husband, Ken, area also planning a trip to Alaska and want to spend time with their grandkids.
"What will I miss the most are the wonderful people," Conkle said. "I have worked with so many great people in our industry and our office. My coworkers have always been my family."
Nieporte added, "I wish her many enjoyable years of retirement to be able to get out and dote on her flowers, play with her animals and make good memories with her family and friends."