05/08/2020
Newspapers are essential for recording life under COVID-19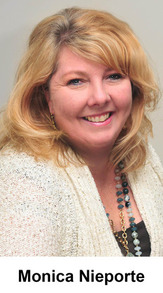 By Monica Nieporte, OMNA President and Executive Director
May in the newspaper world is traditionally a busy month of the local high schools winding down spring sports, final choir, band and theater performances and the senior class getting ready for graduation.
For those who didn't do prom in April, there are the little groups gathering in the parks for pre-dance photos and having a nice meal together before the big dance.
The sounds of summer – the clack, clack of roller coasters at theme parks or the crack of a bat at a baseball game.
We took it all for granted that it would continue indefinitely, uninterrupted.
Hugging your mother or grandmother to wish her a happy Mother's Day. Also, taken for granted.
This year, all of those things that seemed so routine and so simple would be so welcome now.
Reporters and photographers will be challenged to try to tell these stories and try to record for history how communities all throughout Ohio marked these occasions in the spring of Covid-19. Much like going back now and looking at historical photographs from the 1918 Spanish flu, future generations will look at our papers and try to get a sense of what we went through to try to maintain honored traditions and family connections.
I hope we don't leave it to social media to document the best of these efforts people are making. As newspapers struggle to keep up with the medical and official updates and get those out to their readers, I hope the art of the feature story is not a casualty of the hard economic times most newspapers are facing. I hope reporters take the time to tell the human side of the pandemic.
Do feature stories about people in the community adopting members of the senior class to leave little presents or to send cards to. Do feature stories about the parents who threw a backyard prom for their daughter or son who didn't get to experience it the traditional way. Social media is flooded with stories like these that will disappear as time moves on. Don't forget to track down a few of these and put these in your newspaper where they will be preserved for all of time.
There will come a day when people will want to know more than just the data, more than just the daily disease toll in terms of numbers. What was life was really like in the spring of 2020? May will provide plenty of occasions for you to capture those stories. Don't let history pass you by.