04/24/2020
We're in for the long haul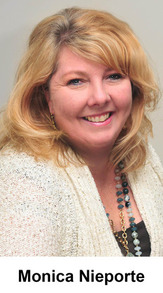 By Monica Nieporte, OMNA President and Executive Director
This is for the long haul.
Unlike natural disasters – which newspapers have always had to make temporary provisions to soldier through – this is shaping up to be an ongoing crisis that will be with us for at least the next year or more. Though the severity may ebb and flow, there will just be things we may not be able to do until better treatments or a vaccine is available. It will test our industry along with every other local business in a way we haven't been tested for decades.
Essential businesses will survive though.
And in coming weeks and months, all businesses will be presenting consumers with a choice which will have consumers deciding for themselves what is "essential" to their lives and what is not.
Do I really need to stop in there? Do I really have to have that service? That item? Is the potential risk worth it? Can I afford that product or service?
As people make those hard choices, those evaluations, we need to constantly remind them that we are will be there on the other side of this horrific time. We intend to be there, they can count on us and most importantly, they want us – need us – to be in that figurative life raft with them. Why? Because we always have been. We've been the one steady thing, the constant, that their community, their parents, their grandparents and generations before them just knew would always be there. The community's historian, cheerleader and watchdog rolled into one. We are the collective memory of the community and no one would willingly sacrifice that.
We are interwoven in their everyday lives in ways that don't always get noticed or appreciated. We're the silent passenger along for the journey that is their life. Everything from their birth announcement to their obituary and every milestone, achievement or hardship in between.
But now, we are on the outside looking in – just like everyone else. We're shut out in a way that is new for us. There are no prom photos to take and no track meets to highlight. Will we be able to stand there and interview the 4-H kid who had the first place steer at the county fair? For the first time in 200 years, we just don't know the answer to that right now and that is hard. But we still need to find a way to tell that young man or young woman's story. That is what we do and it has never felt more important that somehow we still find a way to do that.
Annual chamber and tourism dinners, business after hours and all those events that renew the bonds between local business leaders and celebrate their accomplishments. All postponed indefinitely. But we still can generate fellowship among business owners and identify common purposes to unite Main Street.
Many staffs are working remotely from one another. It all leads to a disconnected and isolated feeling.
Journalists take pride in fixing things. Highlighting a problem and rallying the community around the cause to address it. There is no easy solution to the big problem here. But this is an opportunity to continue to foster good will and remind people that the newspaper has a stake in the community and the community also has a stake in our future success and viability.
Can your paper have a drive-through donation day in front of your business or in your parking lot? This can be for the food bank, pet supplies for the local humane society, homemade mask drop off for our health care workers and first responders, puzzles and word search books for a local nursing home? It can be anything really. Anything your staff can do to safely keep that connection with readers, create a purpose or a "mission" for everyone to engage in and erase the feeling that we're all helplessly just waiting for the all-clear.
Newspapers have always been involved in the big annual events of their communities whether it's the county fair, a big parade or festival. In recent years many papers have created and hosted their own events. To be sure, this important source of revenue is jeopardized in the short term. It will require creativity to figure out how to replace it.
We have started a Slack thread for our advertising and marketing professionals to share ideas, discuss these dilemmas and brainstorm solutions. Advertising at its core is simply connecting a business with a consumer who has a need or a want the business may be able to fulfill. I encourage everyone whose job it is to do that to join our Slack thread and start innovating. Talk to your colleagues. We're all in the same spot and maybe together we can come up with some great ideas.
If you missed one of the earlier email invitations, please email Jason Sanford at jsanford@ohionews.org and join in. General news is on the coronavirus thread but advertising and marketing ideas have its own home on the advertising thread. If you're new to Slack, that's ok. This is a great time to try it.