06/13/2016
Lightning Photography: A Case Study
By Zack Anderson, ONA Intern
How did Bishop get started photographing lightning?
Bishop says he has been chasing storms for 20 years but has had only an intense interest in it in the past few years. It was tornadoes that he focused on photographing originally, but then he realized those were really hard to track down.
"I started shooting lightning," he says.
Bishop says lightning has so much power and that it's amazing to see this power. "A lightning bolt's hotter than the surface of the sun," he says.
I want to start photographing lightning. What advice does Bishop have?
If you're interested in photographing lightning, Bishop has two recommendations: buy a lighting trigger attachment for your camera and download apps for your phone to help you find lightning.
Tip #1: Buy a lightning trigger attachment.
For his lightning trigger attachment, Bishop uses the Strike Finder Elite from Ubertronix. The trigger attaches to a camera and has a sensor on the front. "Every time it detects lightning, it fires," Bishop says. He used the trigger attachment to take the following photo.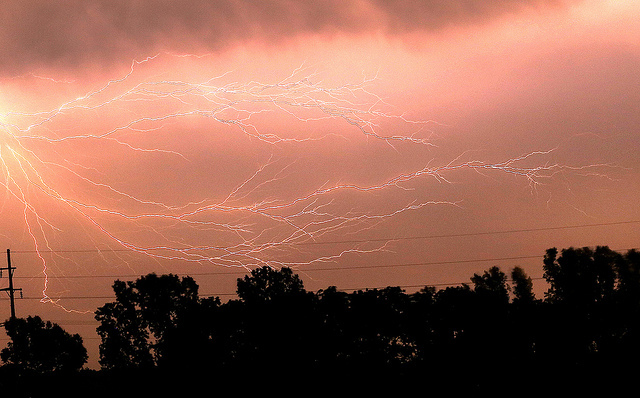 Central Ohio | Bruce Bishop, The Chronicle-Telegram (Elyria)
The Strike Finder Elite is the best of Ubertronix's three trigger attachments. According to Ubertronix's website, it can capture lightning both during the day and at night and has a sensitivity adjustment so that you can adjust how it responds to lightning. The Strike Finder Elite can also be triggered by lasers, motion or sound.
Before Bishop had a trigger attachment, he says he would just take hundreds and hundreds of photos. That's how he got the photo below of Wellington's town hall.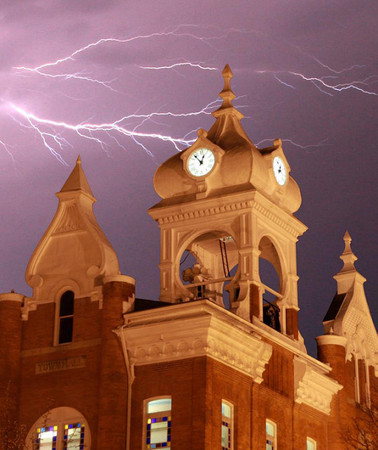 Wellington's Town Hall | Bruce Bishop, The Chronicle-Telegram (Elyria)

"That was just a matter of keeping firing until I found one," Bishop says.
Ubertronix's trigger attachments run in the $100 to $300 range. If you want to get into storm chasing, Bishop says it's worth it.
Tip #2: Download apps for your phone to help you find lightning.
"Get an app on your phone that lets you know where the lightning is active," Bishop says.
Two apps Bishop uses are Black Box Development's Lightning Finder and WeatherSphere's RadarCast, both available for iOS. According to Lightning Finder's website, the app uses data from the North American Precision Lightning Network – over 160 lightning stroke detection sensors throughout North America and northern South America – to provide users with lightning data in "near real time."
Bishop says an app can be especially helpful in Ohio. While he says closer to the Midwest, weather comes in a large single cell, in Ohio it comes in on a long line, with parts of the storm more active than others. An app can help you know what you're looking for.
Bishop also says weather radar apps can be helpful in finding the most intense parts of a storm. While the RadarCast app shows lightning strikes, it also has a variety of other weather information.
Isn't safety an issue?
Yes, it is. "You have to stay safe," Bishop says.
He doesn't shoot when the storm or lightning is too close, or if it is close, he might shoot from his car. While Bishop says this might not necessarily keep him completely safe, it is definitely safer than simply being outside.
Bishop also says he likes to shoot from parking decks. When the lightning is far away, he'll shoot from the top of the deck, and he'll move to lower levels as it gets closer, helping keep him safe, he says.
The following photo Bishop took from the roof of a parking deck in Lorain. He used his Strike Finder attachment, which is so fast that it was able to get three exposures of the bolt before it disappeared, Bishop says.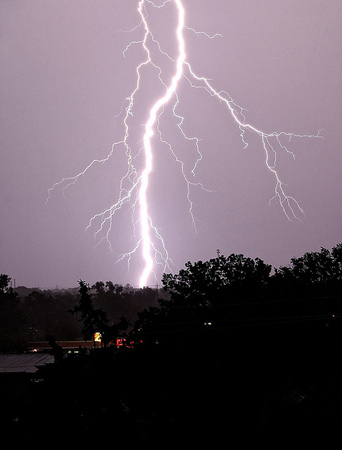 Lorain | Bruce Bishop, The Chronicle-Telegram (Elyria)

Even though Bishop takes precautions, photographing lightning does have its risks, and people need to be aware of the dangers, he says. He experienced the reality of these dangers in Oklahoma City when he went storm chasing last spring in Oklahoma and Texas.
"I was on the rooftop of a 10-story parking garage," he says, "and I almost got hit by lightning."
Does Bishop publish any of his lightning photos in The Chronicle-Telegram?
Bishop chases storms all the time, but he only gives his best ones to the newspaper. "You can only run so many lightning photos in the paper," he says.
One photo Bishop has published in The Chronicle-Telegram is the photo above that was shot from the parking deck. It appeared on the front page.
"The lightning was so intense in that storm that that was kind of the focus of the story," he says.
Bishop has been shooting for The Chronicle-Telegram in Elyria for 25 years.