08/06/2015
Large turnout for ONA circulation managers training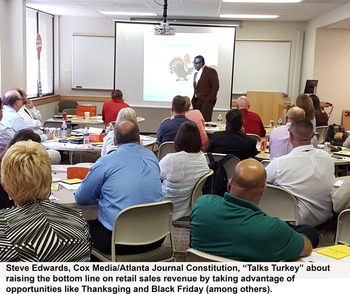 The ONA circulation managers held a successful "Retail Revenue & Sales Strategies" training session on Wednesday, August 5 at Ohio University – Pickerington Center. The attendance was the largest we have seen in a number of years.
The attendees heard ideas from newspaper industry leaders about single copy sales and operational strategies. They also learned about effective merchandising techniques and strategies that drive retailer partnership frequency and loyalty. The speakers included John Murray, Newspaper Association of America (NAA): Joann Larkee, Gannett, Ft. Myers, FL; Valecia Quinn, Gannett, OH/KY; Steve Edwards, Atlanta Journal Constitution/Cox Media; and Dick Fuller, Toledo Blade.
All presentations are available online on the Circulation training page of the ONA website.
A special thank you to Jim Smith of Steel City Corporation for providing the lunch and his help arranging the session with Circulation committee member Valecia Quinn.